By Alice Cuddy
BBC News, Iskenderun, Turkey

Rescue workers called for silence at a fallen apartment building in the southern Turkish city of Iskenderun on Wednesday after hearing signs of life beneath the mounds of rubble.
Onlookers including family, friends and neighbours of the building's residents stopped talking, while cranes and other machinery nearby were switched off.
After minutes of silence, rescuers called out for an ambulance, confirming that a woman had been found alive.
The crowd broke into cheers and tears.
One woman, whose cousin and aunt lived in the building and are still missing, fell back onto a car bonnet and buried her face in her hands.
Onlookers told the BBC it marked the first time a survivor had been found at the six-storey apartment block since Monday's earthquake reduced it to rubble.
Shortly before they were found, a body had been pulled from the debris just a few metres away.
Rescue workers and volunteers quickly formed a chain to carry the woman to a waiting ambulance.

Local residents said she was a single mother in her 50s who lived alone in the building. Her son stood by the ambulance and watched as she was carried down, they added.
Several onlookers said it gave them renewed hope that their own missing loved ones would be found. One said she was hoping for a "miracle".
Rescue workers hugged as the woman was taken away – a rare moment of hope and happiness among so much devastation.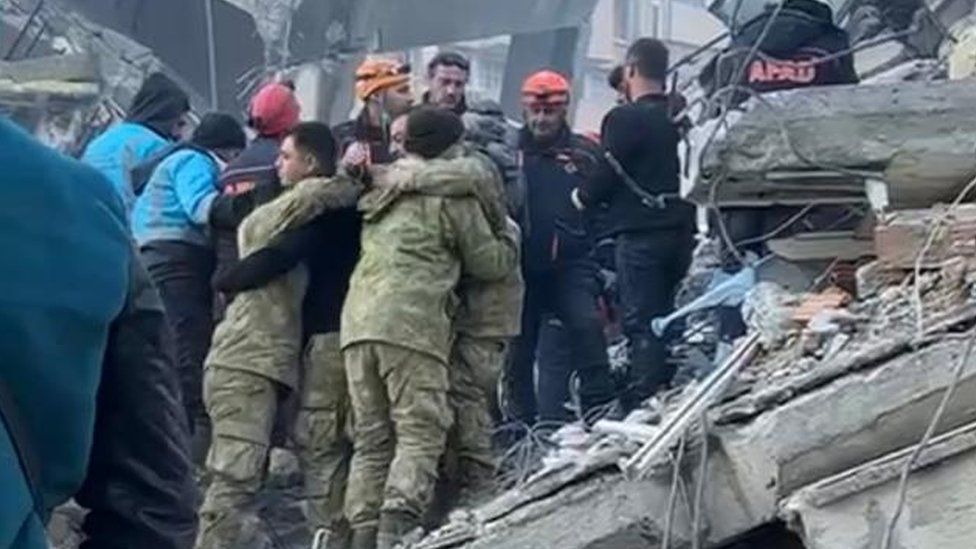 The mood at the Iskenderun apartment block quickly became sombre again as rescuers resumed the slow work of searching the rubble, largely by hand.
Local doctor Mehmet Riyat told the BBC medical staff had been overwhelmed since Monday.
"We've had patients who have been crushed. We've seen lots of broken bones, broken necks, head injuries. And lots of deaths," he said.
"As doctors we have to do our jobs. But when the support teams take over, then we think about our own families."
There is destruction everywhere you turn in Iskenderun – many buildings have been destroyed, including a busy hospital.
Turkey's President Recep Tayyip Erdogan hit back on Wednesday at mounting anger over the state's response to the disaster. Critics have said emergency efforts have been too slow and that not enough was done to prepare the earthquake-prone region by his government.
But Mr Erdogan said: "It's not possible to be prepared for a disaster this big."
The 7.8 magnitude earthquake struck early on Monday morning near the southern city of Gaziantep, which is close to the Syrian border. The death toll currently stands at more than 11,000 people across both countries.