Deniz Barış Narlı in Adana and Sam Jones

Adem Altan can't compare the picture he took on a cold morning this week with any of the tens of thousands he has shot in his 41 years as a photojournalist.
Shortly after driving from Ankara to the southern Turkish town of Kahramanmaraş on Tuesday, and picking his way through the aftermath of the 7.8-magnitude earthquake, he came across a collapsed apartment complex.
Families were digging through the rubble in search of their buried loved ones, but it was a man in an orange coat who sat quietly amid the debris who caught Altan's eye.
"When I looked closer, I saw that he was holding a hand," says the photographer, "so I began to take photographs."
The man was called Mesut Hançer and the hand he was holding was that of his 15-year-old daughter, Irmak, who had been killed in her bed when the quake brought the building down. Hançer spotted Altan. And then he asked him to carry on.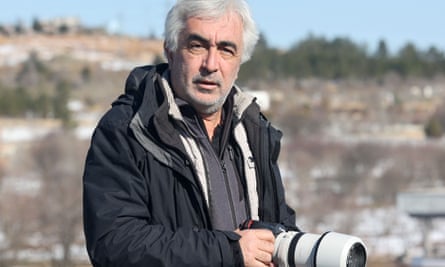 "'Take a photo of my child,' he called out. Then he let go of the hand he was holding and showed me his child. I saw a person's head under the rubble. I asked his name. 'Mesut Hançer,' he said. Then I asked his child's name. He was a little far away, and I had trouble understanding. He said his daughter's name was Irmak."
The photographer did as he had been asked and carried on taking pictures as Hançer took his daughter's hand again.
"What unbearable pain, I thought to myself," says Altan. "My eyes were full of tears and I had a hard time not crying as I took the pictures. I waited for a bit after taking the pictures, expecting someone to come and take the girl away. Unfortunately, no one did."
Altan had to leave Hançer and Irmak to carry on documenting the destruction for Agence France-Presse, where he has worked for the past 15 years.
"But I was curious about what had happened to them and so the next morning, I went back to the ruins where the father and daughter had been. I don't know what happened to the father. He wasn't there when I arrived the next day and neither was his daughter."
The photojournalist knew he had taken an extraordinarily poignant picture of the pain the earthquake had caused, but he didn't expect it to become perhaps the definitive image of the disaster.
"It got a lot of attention both in Turkey and around the world" he says. "Hundreds of people shared it on social media and I got hundreds of messages saying things like 'A very powerful photograph showing the pain of the earthquake' and 'A photograph we will never forget until we die.'"
For Altan, the picture has done its job: it shows the physical and emotional destruction of the earthquake; it documents a father's undimmable love for his daughter, and it asks: "Is there any greater pain than this?"
"I can't compare it with any photograph I've taken before," he says. "The photo attracted a lot of attention, yes. But I can't say I'm happy. This is a catastrophe."

(Source: The Guardian)