By Tessa Wong
Asia digital reporter
As the rift between the US and China over the balloon saga widens, so has the divide within the global community scrutinising their high-stakes dispute.
The latest exchange took place on Friday, with US President Joe Biden insisting he would "make no apologies" for shooting down the alleged Chinese spy balloon. Hours later, the Chinese foreign affairs ministry said the US "can't ask for dialogue while fuelling tensions".
China continues to deny that they sent a spy balloon, even as the US continues to disclose more details of the object to back up their allegation.
But beyond the dispute, the way both Beijing and Washington have responded to each other has come under close examination as the world grapples with the incident's implications for national security and geopolitical stability.
The net result, say observers, is that it has hardened positions – deepening distrust among those wary of China or the US – and made it significantly harder for Washington and Beijing to close the gap between them.
For some, the incident has heightened anxieties over the reach of Chinese espionage, as governments scramble to reassess what they know of China's surveillance capabilities.
This week Japan – a key US ally – announced that after they had re-analysed past cases of unidentified flying objects, they "strongly suspect" that China had flown at least three spy balloons across their territory since 2019.
A Financial Times report quoted unnamed Taiwanese officials saying the island – another US ally, and one that is claimed by China – had been spied on by dozens of Chinese military balloons.
Taiwan's defence ministry later clarified it had only spotted Chinese weather balloons – on Friday it found the remnants of one such object – but also warned they would not hesitate to shoot down any suspected military objects in its airspace.
"For other states, they didn't know what to make of it previously, but now they do. So it shows a gap in understanding on the part of other states, and not surprisingly China has sought to exploit the gap," said Dr Ian Chong, a non-resident scholar at Carnegie China.
For those convinced of the US allegations, the incident has highlighted an underestimation of China's surveillance capability – and the lengths Beijing would go to prove it.
"It certainly indicates the People's Liberation Army feels they can justify absolutely any technology and any mission, that they can do anything to increase China's ability to project power, conduct surveillance, and hold the US at risk," said Mr Drew Thompson, a former US Department of Defense official and a visiting senior research fellow at the National University of Singapore.
This, said Mr Thompson, was done "regardless of the consequences to China's reputation, its obligation and adherence to international law, and without considering the benefits of acting with restraint".
Noting there has been a lack of a concerted outcry and pushback from the global community, Mr Thompson said this demonstrated "a fragility of international law" and was a "testament to China's ability to deter other countries from criticising them", and could lead to a more unsafe world.
Beijing undermined its own attempts to win trust and project the image of a responsible superpower with the way it has responded in the saga, according to some observers.
China has yet to divulge details backing up its claim that the balloon was a civilian meteorological airship, such as the name of the company that operated it. "This lack of transparency has only created more questions, and has given those who are already sceptical a reason to be even more so," said Dr Chong.
Beijing's subsequent claim that the US has in the past flown more than 10 spy balloons into China – which Washington has denied – was also "confusing", he added.
"Is China suggesting that floating lots of balloons over each other's territory has been an accepted practice?" asked Dr Chong, who pointed out that if this were the case, it would contradict Beijing's long-held insistence on the respect for sovereignty.
The claim could be seen as a case of China deflecting and engaging in "whataboutism", said Mr Thompson, which is a way of responding to an accusation by proffering a counter-accusation.
But the way the US has reacted has also unnerved some, particularly those who side with China.
This week, US officials admitted that three other objects they shot out of the sky in North America were not likely foreign spy crafts. Mr Biden defended the decision as necessary to protect commercial air traffic, and also because at that time they "could not rule out the surveillance risk of sensitive facilities".
Victor Gao, vice-president of Beijing-based think tank Center for China and Globalization, called the shootings an "overreaction" that could be seen as the US "acting increasingly hysterical".
"China has been very professional and responsible, explaining the situation to the US and the whole world and asking for co-operation rather than confrontation. This is in contrast to the jingoism of the US – they should remember they are not shooting buffalo in the Wild West, they are shooting down an object that China owns," he said.
Others have praised the US' handling of the incident, with Australia's deputy PM Richard Marles calling the shootdown of the Chinese balloon "a very measured way" of responding to the incursion.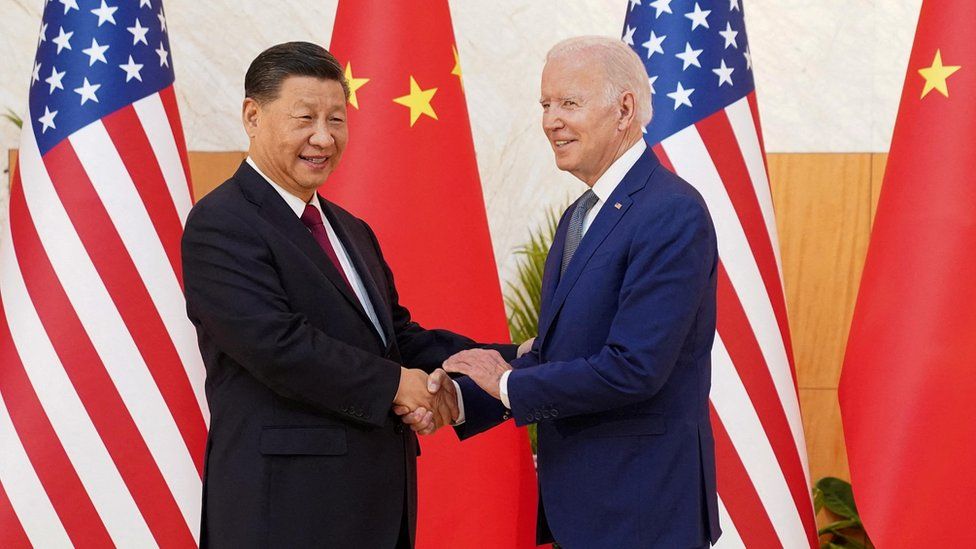 With both sides doubling down, what is clear is that the balloon blow-up has made reconciliation even harder.
For the Chinese, the shootdown and Mr Biden's refusal to say sorry has set a precedent, warned Mr Gao.
"They would need to be prepared for similar acts of retaliation against similar objects in Chinese space… Don't complain that China doesn't apologise, if such an unfortunate incident happens again," he said.
He pointed out that it may even push China to take a stronger stance against US planes and ships in airspace and waters which China considers as theirs, such as Taiwan.
The US Navy routinely conducts what it calls "freedom of navigation" exercises by sailing its military ships through the Taiwan Strait.
But there are signs of a willingness to engage.
There is talk that Chinese foreign minister Wang Yi may meet US Secretary of State Antony Blinken on the sidelines of a security conference in Munich this weekend, in what would be the first high-level meeting since the dispute began.
Mr Blinken had called off his long-planned visit to Beijing earlier this month when news broke of the Chinese balloon.
Mr Biden has also said he plans on calling up Mr Xi soon to discuss the incident.
Both leaders face domestic pressure to not be seen as backing down. As the balloon saga drifts on, the question now is how much political capital both leaders would be willing to spend to deflate tensions.

(Source: BBC News)