Avani Dias and Som Patidar

The Indian and Australian governments want to increase trade between their countries to $100 billion, and are hoping to finalise an ambitious trade agreement by the end of the year.
If that target is achieved, India would become Australia's second-largest trading partner after China, overtaking countries like the United States and Japan.
"The officials had kept a target of $45 or $50 billion in the next five years, both Minister Farrell and I have expressed our unhappiness to the trade negotiators and the teams," India's commerce minister, Piyush Goyal, said.
"We do hope we will be much more ambitious and aim for $100 billion trade between these two economies.
"That's the type of trust and friendship and faith that both countries have at the highest level between our two prime ministers."
The increased economic links are a part of a major deepening in ties between India Australia this week, after Prime Minister Anthony Albanese toured the country being welcomed by Narendra Modi with a major show of support.
Last year, the countries signed an interim trade deal, close to a full trade agreement, after a decade of protracted and sometime torturous negotiations.
It has cut tariffs on a range of Australian exports to India, including coal, lentils, lobsters and rare earths.
The agreement removed duties on 96 per cent of Indian exports to Australia and 85 per cent of Australian exports to India.
Complimentary economies
After bilateral talks, Mr Goyal and Australian trade minister Don Farrell said they hope to expand the agreement, saying the countries' relationship is growing by "leaps and bounds".
"We complement each other's economies, with Australia and India barely competing in any areas," Mr Goyal said.
"We are truly two economies which can collectively together make a tremendous difference to the world."
Avocados and pet food from Australia, as well as okra and pomegranate from India, are some goods which may see further reductions in tariffs, the ministers said.
Major agricultural exports like dairy, chickpeas, and beef were entirely excluded from last year's interim agreement because of opposition from India's farmers.
More than 50 per cent of the Indian workforce is employed in the agriculture sector, and protests by farmers in 2021 led to the Modi government repealing laws which would have turned the industry into a free market.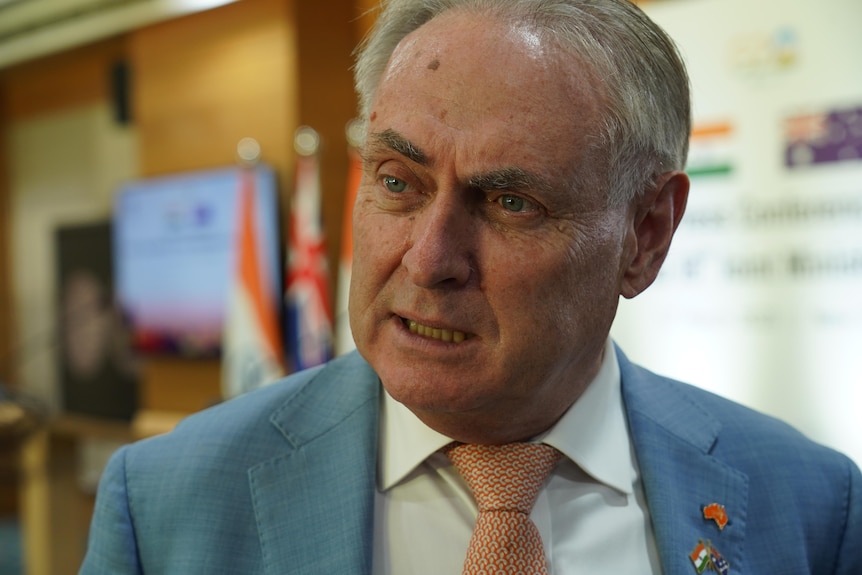 Mr Goyal indicated it would be unlikely any further expansions of the trade deal would include many agricultural goods, saying Australia is respecting those domestic "sensitivities".
"There was an opening up of some elements of agriculture in the [agreement]. With an open mind, we'll be looking at forward movement, wherever there are areas of complementarity and mutual benefit," he said.
"However, I'm really grateful to the Australian government for their appreciation of the sensitivities around the unfair nature of farming between the two countries.
"Australia is blessed to have a large land base and blessed to have large farms where they can use modern technology … India, on the other hand, has very small farms, with more than 90 per cent of the farmers being marginal farmers."
India is one of the world's fastest-growing economies, and its major trading partners are keen to increase ties as the country goes through a technological revolution seeing major development.
Mr Farrell said Australia wants to tap into those digital opportunities.
"By 2030, there will be 900 million Indian users of the internet," he said.
"Young Indians are very active in the digital space. We want to work with you to ensure that Australia gets the benefit of all of the knowledge and development that you're creating in that that area."
Mr Farrell has said data shows that in January, the first month the agreement was in action, $2.5 billion of goods entered India tariff-free.
A delegation of 25 CEOs also travelled to India with Prime Minister Anthony Albanese, from Australia's largest companies like Qantas, Commonwealth Bank, and Fortescue Metals, hoping to increase business links.
"We think we can do even better than [$2.5 billion] under our discussions now," Mr Farrell said.
"This can be a win-win situation, where we can get greater access to your markets but, in the process, you can build your own industries, and in that way, both of our countries increase the wealth and the prosperity of our people."

(Source: ABC News)