Simone McCarthy
Hong KongCNN —
Chinese leader Xi Jinping and Russian President Vladimir Putin have made a sweeping affirmation of their alignment across a host of issues – and shared mistrust of the United States – in a lengthy statement following talks between the two leaders in Moscow this week.
Their meeting, which took place under the shadow of Russia's onslaught in Ukraine, left no question about Beijing's commitment to developing its rapport with Moscow, despite Putin's growing isolation on the global stage as its devastating war continues into its second year.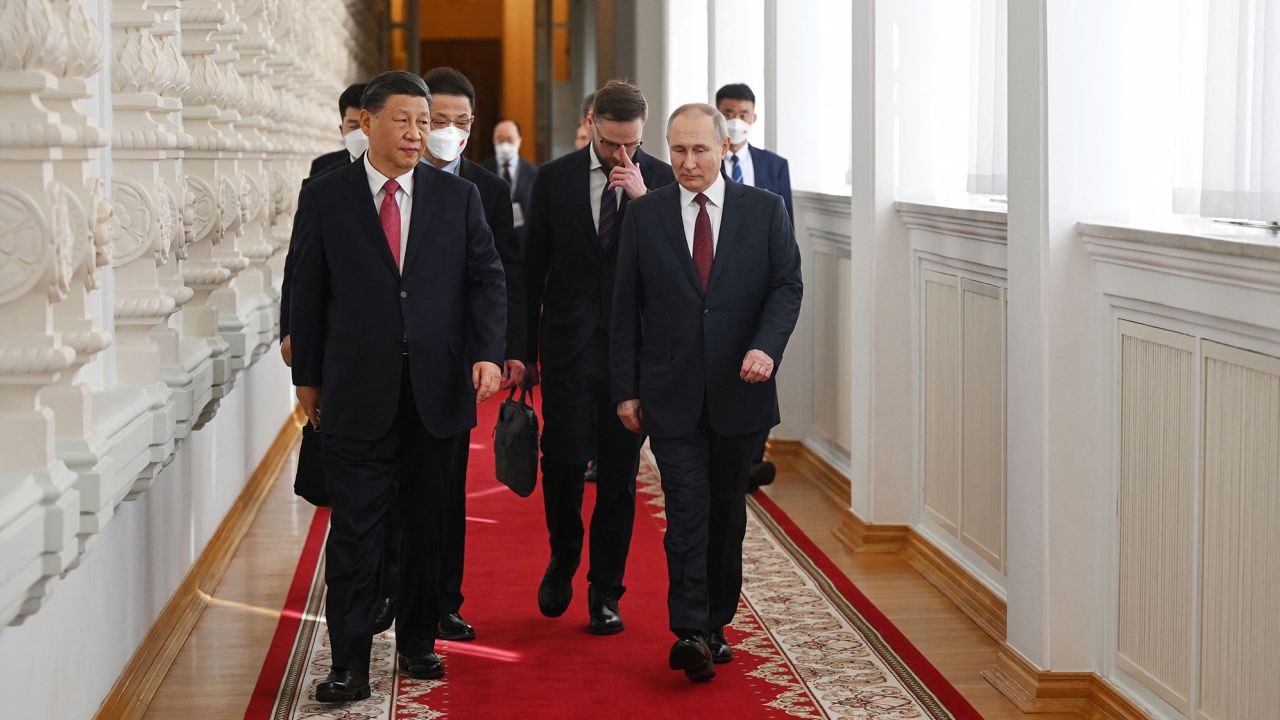 It also failed to move the needle on bringing that conflict to resolution.
Instead, Xi's three-day visit to the Russian capital, which concluded Wednesday, was an opportunity for the two self-described "friends" to showcase their close personal rapport amid the pomp of a state visit – and lay out how they could advance a world order that counters one they see as led by Washington and its democratic allies.
The meeting culminated in more than a dozen agreements bolstering cooperation in areas from trade and technology to state propaganda, according to a Kremlin list. The leaders' central statement focused on how the two countries would "deepen" their relationship.
Xi's visit was contrasted by another key diplomatic mission to the region.
Japanese Prime Minister and US ally Fumio Kishida landed in Ukraine to sit down with Ukrainian President Vlodomyr Zelensky on Tuesday – further underlining how the conflict in Europe has also deepened divisions in Asia.
Here's what you need to know about Xi and Putin's meetings.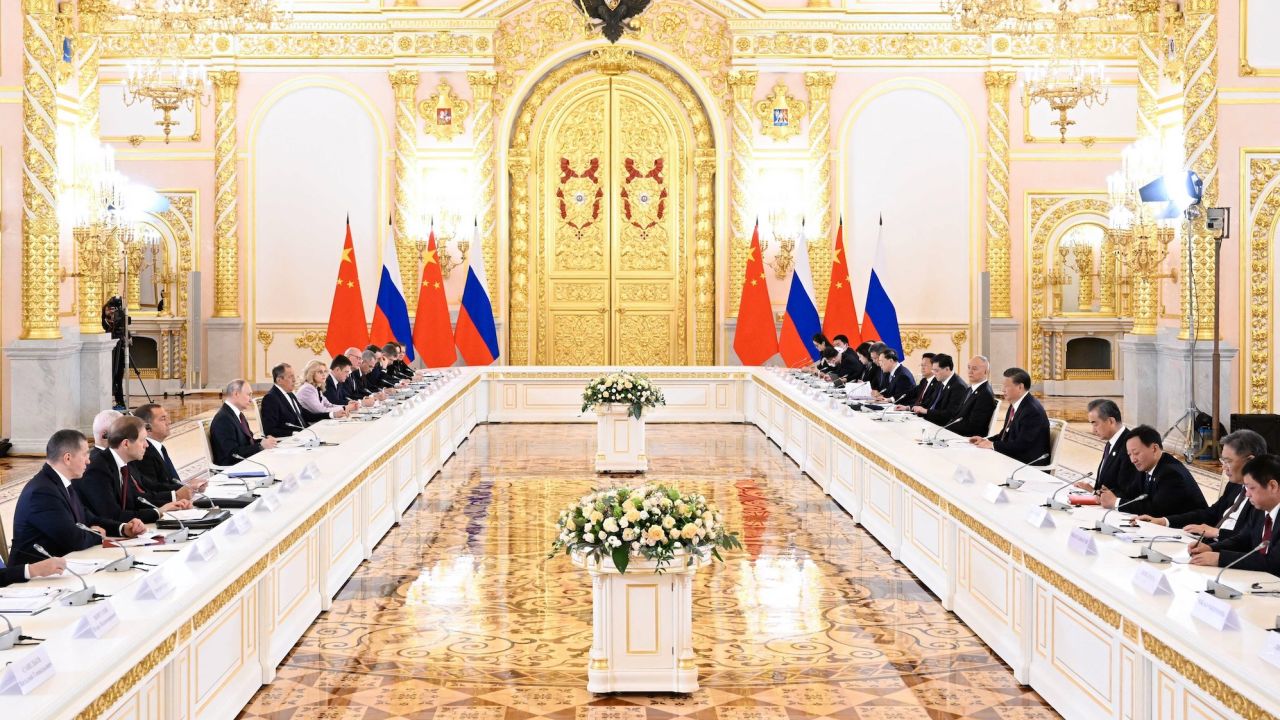 No meaningful path forward on Ukraine
The meetings yielded no breakthrough on resolving the conflict in Ukraine.
Both leaders called for the cessation of actions that "increase tensions" and "prolong" the war in Ukraine, according to their joint statement released by China's Foreign Ministry. The statement did not acknowledge that Russia's invasion and military assault were the cause of ongoing violence and humanitarian crisis in Ukraine.
The leaders also urged NATO to "respect the sovereignty, security, interests," of other countries – a reference that appeared to echo long-standing rhetoric from both countries falsely blaming the Western security alliance for provoking Russia to invade.
In recent weeks, China had appeared to position itself as a peace broker, releasing its position on a "political solution" to the conflict calling for a ceasefire and peace talks.
Putin said that "many of the provisions" could be "taken as the basis" for a peaceful settlement in Ukraine, "when the West and Kyiv are ready for it," in comments to reporters following Tuesday talks.
But the proposal has been viewed as a nonstarter in the West and Ukraine, because it includes no provision that Moscow withdraw its troops from Ukrainian land.
On Tuesday, Zelensky said a ceasefire would "simply freeze" the conflict, giving Russia time to "prepare and come back again with their single wish, the wish of their leader – that is to occupy our country."
New world order and alignment against the US
Experts say that China and Russia's inclination to build their alignment against the US – and a world order more suited to their own more autocratic agendas – was driving the meeting, not interest in resolving the conflict in Ukraine.
As Xi left the Kremlin following a state dinner on Tuesday evening with Putin, his parting message reiterated his view that global power dynamics are shifting.
"Together, we should push forward these changes that have not happened for 100 years. Take care," he said during a goodbye handshake with Putin, alluding to what Xi sees as an era where the West is fading and China is ascendant.
In their joint statement, the two authoritarian leaders called for promoting a "multipolar world" – a buzzword for a system not led by so-called Western values and rules, and pledged to work together to "safeguard the international system," and the United Nations – where the two have a track record of blocking motions, including against actors like North Korea.
They also hit out at Washington at multiple points – including saying they "urge the United States to stop undermining international and regional security and global strategic stability in order to maintain its own unilateral military superiority."
Alexander Korolev, an international relations expert at the University of New South Wales in Australia, said the joint statement showed an "overall convergence of Chinese and Russian world views and approaches to many international issues."
"It's very explicit and clear in terms of identifying the United States as a major security threat," he said.
'Military mutual trust' and defense ties
Perceived threats from bodies like NATO and AUKUS – a security pact comprised of Australia, the United Kingdom, the United States – emerged as a clear focus for both leaders, including their implications on Asia.
Xi and Putin both expressed "serious concerns" in their joint statement about NATO's "continuous strengthening of military-security ties with Asia-Pacific countries" and said they "oppose external military forces undermining regional peace and stability."
As China's aggression in the South China Sea increased, the US has bolstered its Indo-Pacific presence and its ties with regional allies.
Russia and China pledged to "further deepen military mutual trust," citing strengthening their military exchanges and cooperation and regularly organizing joint maritime and aerial patrols.
The two countries have continued running joint drills around the world since the war began.
Economic and energy boost
Putin said Tuesday that Moscow was ready to support Chinese business "replacing Western enterprises" that left Russia since the start of his invasion of Ukraine.
Russia has grown increasingly reliant on China as both an import market and an exporter of electronics after being slapped with sweeping sanctions.
The partners appeared poised to expand what has already been a surge in energy trade over the past year as Europe cut its reliance on Russia's key resource.
Both leaders also said they "will build a closer energy partnership, supporting companies from both countries in advancing cooperation projects in oil, gas, coal, electricity and nuclear energy."
Putin in comments to media added that further growth in Russian gas exports to China was discussed, including "implementation of the initiative to build the Power of Siberia 2 gas pipeline through the territory of Mongolia."
Xi did not explicitly mention the pipeline in his comments at the briefing, which Russia has touted as a replacement for the now-defunct Nord Stream 2 line delivering gas into Europe.
The joint statement did mention working together to promote "research and consultation" related to a "new China-Mongolia-Russia natural gas pipeline project."
Divided world
The optics of the Moscow summit was a deep contrast to the coinciding meeting in Ukraine between Zelensky and Japanese leader Kishida.
Zelensky praised Kishida and other leaders who have visited as "showing respect" not only for Ukraine but "for the preservation and functioning of civilized rules and civilized life in the world."
"Given Japan's strength, its leadership in Asia in defending peace and the rules-based international order, and Japan's responsibility as the (Group of Seven) chair, our talks today can truly yield a global result," he said in a nightly address Tuesday.
Xi has yet to speak with Zelensky since the Russian invasion began, though a senior Ukrainian official told CNN Tuesday that discussions are underway between the two countries to organize a call between them about China's resolution proposal, with "nothing concrete" scheduled.
But even still, experts say Xi's Moscow meeting – while shoring up an alignment with Russia that China sees as critical to weakening US global influence – may come at a cost for China's other relations.
"(Xi's visit) clearly puts China and Russia relations above any kind of other bilateral relations China can have," said Jean-Pierre Cabestan, a professor of political science at Hong Kong Baptist University.
However, this "joint statement is not going to win (China) many friends in Europe," he said, "because the whole Europe is so mobilized behind Ukraine to try to kick out the Russians."