Helen Davidson

Taiwan's former president Ma Ying-jeou stood in front of the Sun Yat-sen mausoleum in Nanjing on Tuesday and called for people on both sides of the Taiwan strait to work together for peace, because, he said: "We are all Chinese."
The 73-year-old is in China on a historic visit, the first by a current or former Taiwanese president since 1949. In the decades since, tensions have increased as Beijing vows to annex Taiwan under what it calls "reunification". Taiwan's government and people have become increasingly opposed to the prospect of Chinese rule, and few identify themselves as Chinese.
But Ma, president from 2008 to 2016, believes he can help the peace process. "People on both sides of the Taiwan strait are Chinese people, and are both descendants of the Yan and Yellow emperors," he said, using Chinese terms that referred to ethnicity, not nationality.
"We sincerely hope the two sides will work together to pursue peace, avoid war, and strive to revitalise China … This is an unavoidable responsibility of Chinese people on both sides of the strait, and we must work hard."
The symbolism of any Taiwanese leader visiting China is significant, and drew protesters to the airport in Taipei. Ma's arrival has reportedly been given head-of-state-level security, and he was reportedly met on arrival by a deputy director of China's Taiwan affairs office on Monday.
The visit also comes at the same time as a significant trip by the current president, Tsai Ing-wen, to the US and Central America this week.
In the run-up to Taiwan's presidential election early next year, the visits have thrown up a host of questions about how the two sides of politics are dealing with China and with the US – the two most significant foreign factors in Taiwan's future.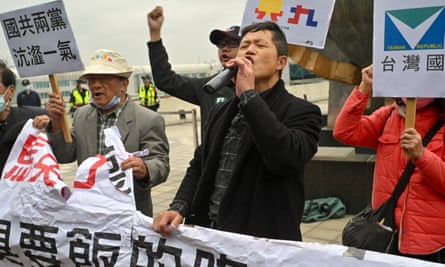 Ma remains closely tied to the Kuomintang (KMT) party and his visit has been criticised by Taiwan's ruling Democratic Progressive party (DPP), which accused him of "endorsing" Beijing's Taiwan policy with his trip.
To counter, Ma and his camp have emphasised the visit's stated focus on paying respects to his ancestors buried there, and on leading a delegation of students. They said he would not visit Beijing or meet the Chinese president, Xi Jinping, but they also touted his ability to repair relations, which they said had been ruined by Tsai's foreign policy.
Jing Bo-jiun, a research fellow at the Stockholm-based Institute for Security and Development Policy, said Ma saw closer ties with China as "a key precondition for Taiwan's international space".
"Ma's trip aims to demonstrate that there are still peaceful options available for people on both sides of the Taiwan Strait."
Tsai will leave Taiwan on Wednesday and transit through New York before heading to allies Guatemala and Belize on 1-5 April. On the way back, she is scheduled to stop in Los Angeles on 5 April before returning to Taiwan two days later.
The US portions of the 10-day trip are, officially, stopovers. The US government, which does not recognise Taiwan as a country, handles such visits with extreme care and observers have noted the length and circumstances of each stop often vary depending on the geopolitical climate.
This will be Tsai's sixth transit through the US since 2016, but tensions now are at their highest in decades. It is less than a year since the then US house speaker Nancy Pelosi visited Taiwan, sending Beijing into apoplectic rage, which it expressed through days of live-fire military drills around the island.
Pelosi's successor, the Republican Kevin McCarthy, has wanted to visit too. But internally, Taipei did not support the idea and it appears Tsai's stopover – rumoured to include a meeting with McCarthy in California – is partly designed to avoid a repeat of the Pelosi drama.
The Chinese Communist party accuses Tsai and the DPP of being separatists. Tsai says Taiwan is already a sovereign state with no need to declare independence, but has spent much of her tenure securing military and diplomatic support from "like-minded" governments around the world. The US is the most significant: it is law-bound to provide Taiwan with the means to defend itself, and is generally expected but not guaranteed to come to its support if China attacked.
Kwei-bo Huang, a professor of diplomacy at National Chengchi University and a former deputy secretary general of the KMT, says Tsai's transit stop "shows the significance of the US for Taiwan's self-defence and great need for moral support in the world. That said, I hope she will not accept whatever is suggested by Washington without question or bargaining".
As well as worsening military intimidation, China is also chipping away at Taiwan's allies, persuading Honduras to switch just last week in what Taiwan's foreign minister suspected was timed with Tsai's Central America trip.
"The DPP will use Tsai's trip to trumpet its success at handling relations with the US and to show that despite losing formal diplomatic allies, Taiwan has greater international space than ever," says Dafydd Fell, the director of the Centre of Taiwan Studies at Soas University of London.
But Beijing, which has refused to engage with Tsai since her election in 2016, has lodged complaints with the US over the visit, and accused her of "promoting Taiwan independence".
The US has warned Beijing not to use the "normal" trip as pretext for any aggressive behaviour, and Taiwan's deputy defence minister told parliament this week there was no sign yet of unusual Chinese military deployments in the region.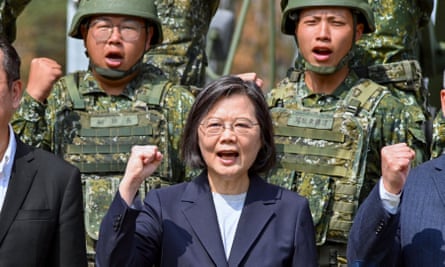 While both sides hope to improve Taiwan's security with their visits, there are also domestic factors at play. The island will have presidential elections in January, and Tsai has reached her two-term limit and will step down.
Fell says Ma's trip is part of a strategy to influence the KMT's election position, for next year and beyond.
"Ma is clearly interested in his own historical legacy but he also wants to shape the KMT's China policy and since leaving office he has tried to make sure the party does not move away from the China relations positions set down during his presidency," he said. "He's been quite successful in that the party's China policies are largely unchanged despite two disastrous electoral defeats."
In Taipei, citizens are closely watching the visits. "There are two sides to choose from, either the US or China, and DPP chose the US," Alice Yeh, a 28-year-old student, said. "Some Taiwanese people think it is OK that Ma visits China but there are many opposing opinions when talking about Tsai going to the US."
The KMT pitches itself as best placed to ease tensions, through, as the party leader, Eric Chu, said on Facebook this week, being "pro-America, friendly to Japan, and at peace with China".
Yen Chun Kuo, 22, says Taiwan and China are "enemies", and it is better to seek alliances with the US. "It seems like Ma Ying-jeou visiting China will make China treat Taiwan better but I don't think so. If you always show weakness to the enemy, they will only lose respect for you and take more advantage of you."

(Source: The Guardian)