Emily Feng
Rapprochement or retrenchment? Secretary of State Antony Blinken is headed to Beijing this weekend to meet with senior Chinese officials in a bid to improve cratering U.S.-China relations, even as both countries pursue policies designed to counter the other's influence.
This is Blinken's first trip to China as secretary of state — the first by a member of President Biden's Cabinet — which he was forced to delay after the discovery, back in February, of a Chinese surveillance balloon in U.S. airspace.
Here's why this trip matters.
This is a step toward communication
American officials are hoping that Blinken's upcoming visit will pave the way for more bilateral meetings and reestablish routine exchanges on diplomatic and trade issues. But experts caution these meetings are just a beginning as the two countries figure out how to compete and coexist with one another.
"The trip is the initial stage of an exploratory process to try to determine if there is mutual intent to moderate the relationship," says Ryan Hass, a former official on the National Security Council during the Obama administration and now a senior fellow at the Brookings Institution.
Blinken's trip builds on previous meetings. In May, national security adviser Jake Sullivan met with China's top diplomat, Wang Yi, in Austria. That was followed up by a visit from top Chinese commerce officials to Washington, D.C.

Yet progress is mixed. Earlier this month, China's defense chief Li Shangfu rejected a meeting request from U.S. Defense Secretary Lloyd Austin because the U.S. sanctioned Li in 2018 for procuring Russian-made weapons for the Chinese military.
"It's going to be hard because neither leader wants to be seen as caving to the other side or accommodating the other side's demands or wishes," Hass says.
Zhu Feng, an international relations professor at Nanjing University, says the onus is on the U.S. to first show it is willing to compromise but he is pessimistic any change will happen.
"Right now, the most important thing is the U.S. has locked in on China as its biggest strategic rival, and this is the consensus of the American entire strategic policy establishment, and so there cannot be any substantial movement on the current suppression of China," says Zhu.
Neither China nor the U.S. is backing down on key issues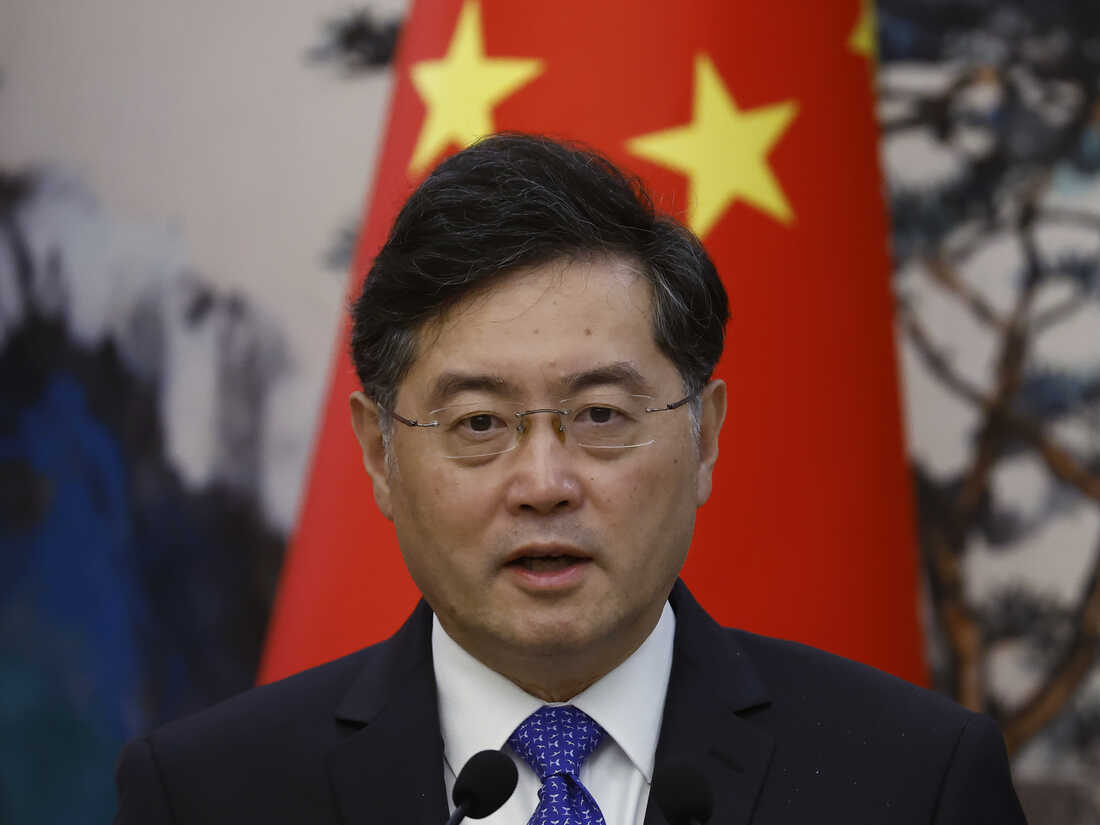 Chinese Foreign Minister Qin Gang attends a joint news conference with his Dutch counterpart Wopke Hoekstra (not pictured), following their meeting in Beijing, on May 23. Secretary of State Antony Blinken and Qin shared concerns on a phone call this week ahead of a planned visit by Blinken to China.
Thomas Peter/Pool Photo via AP
China's Foreign Minister Qin Gang held a phone call Tuesday with Blinken in preparation for his trip to China this weekend.
The U.S. State Department said Blinken "discussed the importance of maintaining open lines of communication to responsibly manage the U.S.-PRC [People's Republic of China] relationship to avoid miscalculation and conflict, addressed a range of bilateral and global issues, and made clear the U.S. would continue to use diplomatic engagements to raise areas of concern as well as areas of potential cooperation."
In China's readout, the Foreign Ministry said Qin addressed "new difficulties and challenges" in the countries' relations. Qin "stressed that the United States should respect them, stop interfering in China's internal affairs, and stop undermining China's sovereignty, security and development interests in the name of competition," the Chinese readout said.
"The phone call serves as a reminder to the U.S. side: we would not reject its request for a visit, but it must come only when it is made with sincerity and true intentions to improve bilateral relations," Li Haidong, a professor at the China Foreign Affairs University who studies the country's relations with the U.S., told the Global Times, a Chinese state-run tabloid.
Chinese officials and academics have been repeating this call for a show of "sincerity" from the U.S. at international forums and in diplomatic statements in the past month. They have made those calls in the hopes of building on what Chinese officials call the "the Bali consensus": calls for greater engagement after an amicable in-person meeting between President Biden and China's leader Xi Jinping in Indonesia last year.
But there are differing conceptions of what that "consensus" even entails. "When the Chinese side says, 'the Bali consensus,' I'm not sure that they mean the same thing as the U.S. The U.S actually hasn't used that phrase," says Nathaniel Sher, a senior research analyst at the Carnegie Endowment for International Peace.
"Minister Qin has said he hopes U.S.-China relations can return to a healthy and stable development track, but this is simply wishful thinking," says Zhu, the Nanjing University professor.
American officials are signaling the U.S. is not compromising on core issues such as semiconductor export controls, congressional visits to Taiwan and sanctions on Chinese officials over human rights violations, despite renewed diplomatic engagement with China.
"After investing at home and strengthening ties with allies abroad, now is precisely the time for intense diplomacy," Kurt Campbell, the U.S.' top policy official on Asia, said during a briefing this week. "At the same time, there is nothing inconsistent with competing vigorously and talking with the PRC on a range of issues."
Countries around the world are closely watching
A members of the Philippine Coast Guard takes part in a simulation during a maritime exercise with Japan and U.S. Coast Guard on June 6, off the coast of Bataan province, western Philippines. The drills that took place in waters facing the South China Sea included maneuverings, maritime law enforcement and search and rescue at sea.
Jes Aznar/Getty Images
Asian countries are closely watching to see whether the U.S. and China can mend their fractious bilateral tensions — or risk spiraling into a more intense conflict in their backyard.
A recent poll of residents in South Korea, the Philippines and Singapore by the Eurasia Group Foundation found 90% of people are worried about a geopolitical confrontation between the U.S. and China. At the same time, 66% generally have positive views toward both the U.S. and China — but feel forced to pick a side.
"[South Korea] was the most likely to fear that their domestic politics would intensify and polarize as a result of politicians being forced essentially to pick a side between the U.S. and China," says Mark Hannah, an author of the report.
Many Europeans are also feeling caught in the middle. In a survey of 12 European Union member states commissioned by the European Council on Foreign Relations, 63% said they believe there is a new cold war developing between China and the U.S. However, most would prefer to stay neutral in the event of a U.S.-China conflict, according to a separate ECFR survey.

(Source: NPR)